We are proud to announce the first standard range of nested wave springs on the market. They will now be available from stock in carbon and 17-7 PH stainless steel from .500 to 4″ or 16 to 100 mm.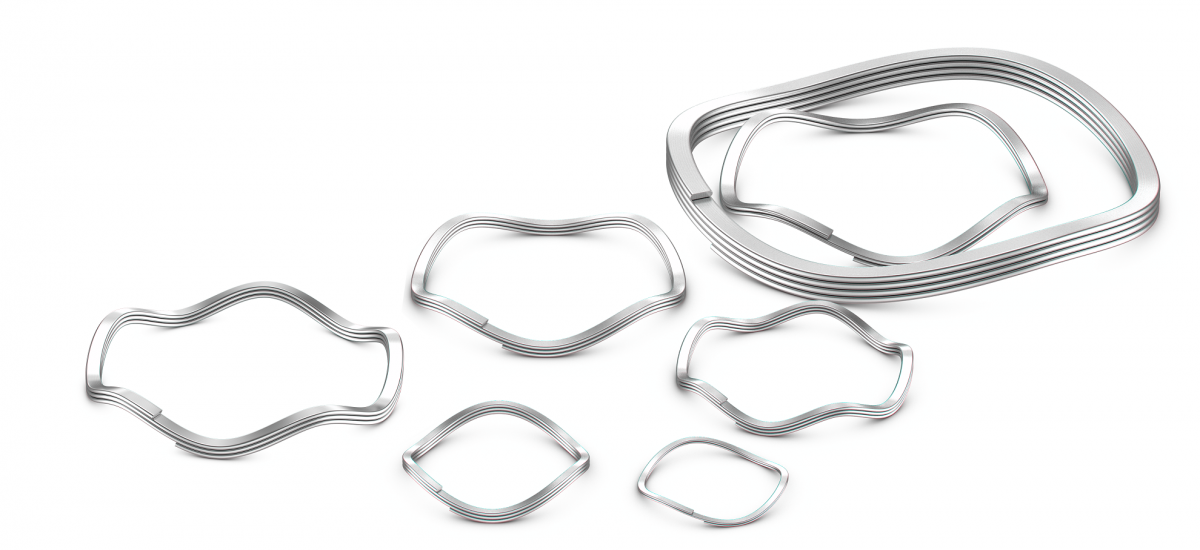 What are the benefits of Nested Spirawave Wave Springs?
Two to three times the force
Nested wave spring forces increase proportionally with the number of turns in the coil. Compressing a wave spring creates bending, or tensile stresses, which can limit the amount of force the spring can produce without failing or permanently deforming. It is recommended that the calculated operating stress be less than the minimum tensile strength of the material in static applications and less than 80% of the minimum tensile strength in dynamic applications. Stacking single-turn springs can achieve a higher load, but one Nested spring provides the desired load without the complication of stacking multiple parts.
Eliminate uneven loading
When an assembly demands a stack of single-turn wave springs, they have to be aligned perfectly to prevent binding or uneven loading when compressed. Because Nested Spirawave springs are made from one continuous filament of flat wire, coiled in parallel, the layers stay aligned, allowing for consistent loading.
Simple automated handling
Nested Spirawave Springs are ideal for automated processes. Their study, multi-turn design allows for pick and place methods without the risk of deformation that can occur when a robotic arm picks up a single-turn wave spring. This design has no free ends, making it tangle-resistant, reducing assembly time.
Quicker installation
Single-turn wave springs stacks need to be installed precisely and individually to guarantee proper alignment and repeatability. Nested springs can be easily placed into assemblies, which leads to both time and cost savings.
Quick delivery time
Now that Nested Spirawave springs are a standard series from Smalley, thousands of carbon and stainless steel parts from .500 to 4″ are available for next day shipment. Non-stock quantities can be available in as little as three weeks.
View the new range: Metric | Imperial
If one of our new standard series springs doesn't fit your application, Smalley can design you a custom Nested Spirawave. Custom or standard, we'll get you the right part, in the right material, with No Tooling Cost.
Contact us to request a free nested wave spring sample, or ask a TFC Engineer how a Nested Spirawave would fit into your application.
---
Shared by Motiv8 Forums – www.motiv8forums.com